Yesterday, Saturday, it was announced the winners of the Author's Excellence Awards. This is something I had to submit a story to and I choice Human Ouija as this is one of my works I'm most proud of. Months went by from my submission until yesterday. I had even forgotten they were going to announce the winners until someone mentioned it randomly.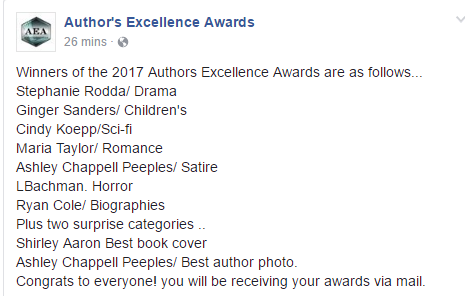 I went over to check and saw posts where those that had submitted or were curious were asking about the posting, when it would be up, or even who were winners. I then saw it!
I want to congrats the other winners, of course. This is an honor. Thank you also to those that have shown their support and that have congratulated me. I was contacted and congratulated privately. I was also asked for my address because I'll be receiving a trophy. I got excited knowing I'd be getting a trophy. As a child, I won things for poetry, but my parents were unable to afford the trips or trophies. So this trophy will be my first physical totem of my accomplishments of this kind.
When I get it I'll take pictures to show as well. The one attached to this post was taken by one of the organizers to show the winners what they will be getting and not one I personally took.